2005 Art Series: mixed media assemblages
Exhibit Article from Trend Leader 3/8/06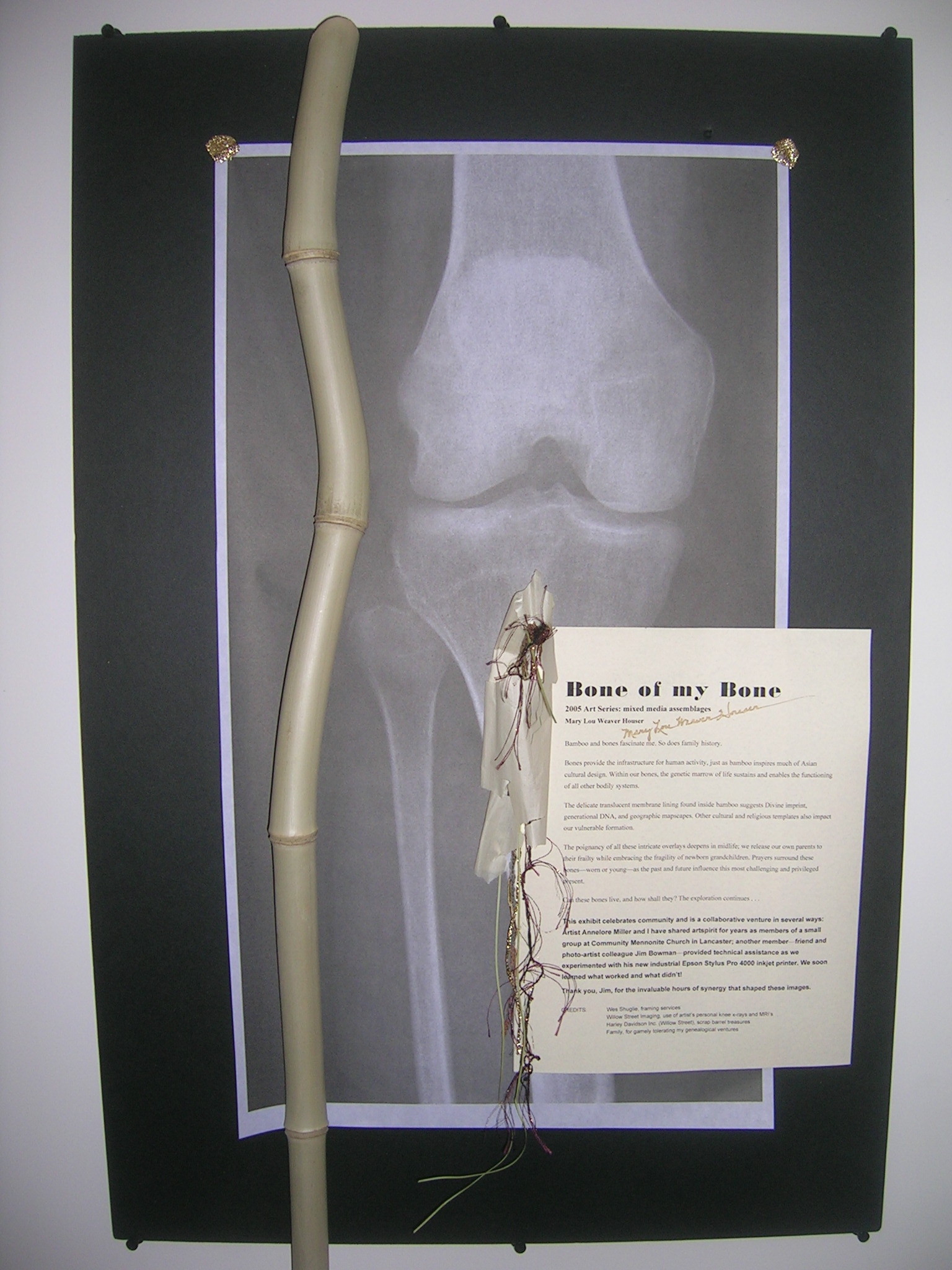 Bamboo and bones fascinate me. So does family history.
Bones provide the infrastructure for human activity, just as bamboo inspires much of Asian cultural design. Within our bones, the genetic marrow of life sustains and enables the functioning of all other bodily systems.
The delicate translucent membrane lining found inside bamboo suggests Divine imprint, generational DNA, and geographic mapscapes. Other cultural and religious templates also impact our vulnerable formation.
The poignancy of all these intricate overlays deepens in midlife; we release our own parents to their frailty while embracing the fragility of newborn grandchildren. Prayers surround these bones—worn or young—as the past and future influence this most challenging and privileged present.
Can these bones live, and how shall they?
The exploration continues . . .
This exhibit celebrates community and is a collaborative venture—friend and photo-artist colleague Jim Bowman provided technical assistance as we experimented with his new industrial Epson Stylus Pro 4000 inkjet printer. We soon learned what worked and what didn't!
Thank you, Jim, for the invaluable hours of synergy that shaped these images. 
CREDITS: Wes Shuglie, framing services
Willow Street Imaging, use of artist's personal knee x-rays and MRI's
Harley Davidson Inc. (Willow Street), scrap barrel treasures
Family, for gamely tolerating my genealogical ventures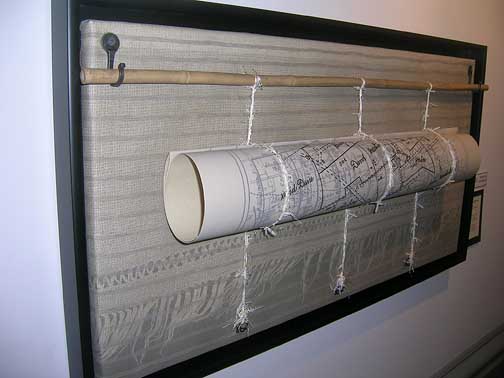 land ties: furrows and fibers in weberthal
bamboo, metal, textile, fiber,  archival ink on rag paper and vellum
The Waber/Weber/Weaver family, weavers by trade, cleared and tilled ancient Native American hunting grounds in Lampeter and later near Blue Ball (PA) Original homesteads still standing
(homespun linen from Lampeter settlers; Eshelman 1710 Map of First Settlement in Lancaster County, PA; M. G. Weaver Map of Weaverland /Weberthal Four Plantations)
(detail photos below)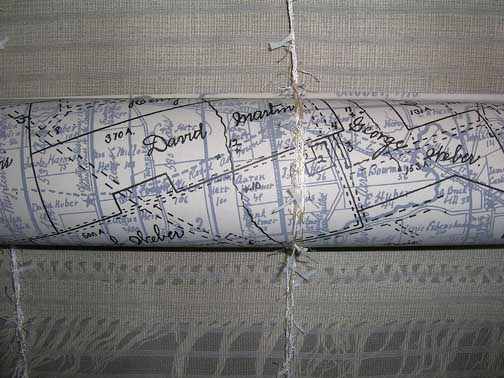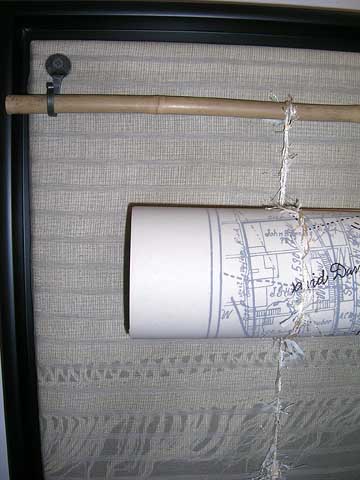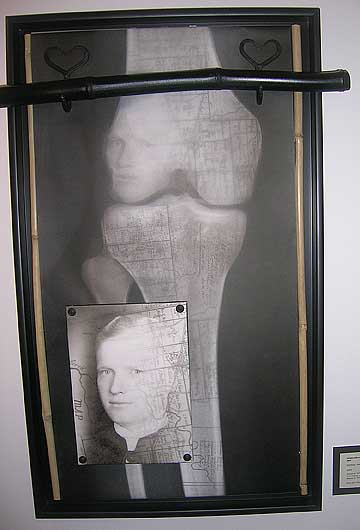 remember whose daughter you are
bamboo, metal, archival ink on Mylar 
My father, formed from the land and mores of his fathers, frequently reminded me of mine as I would exit the farmhouse to take the wheel of our 1960 blue VW bug . . . the twinkle in his eye lightened that yoke.
(Eshelman 1910 Map of Landowners with 1710 Map Overlay; artist's father: Harold Kolb Weaver, b. 1918; ordained deacon at Norristown Mennonite Gospel Mission 1941)
(detail below)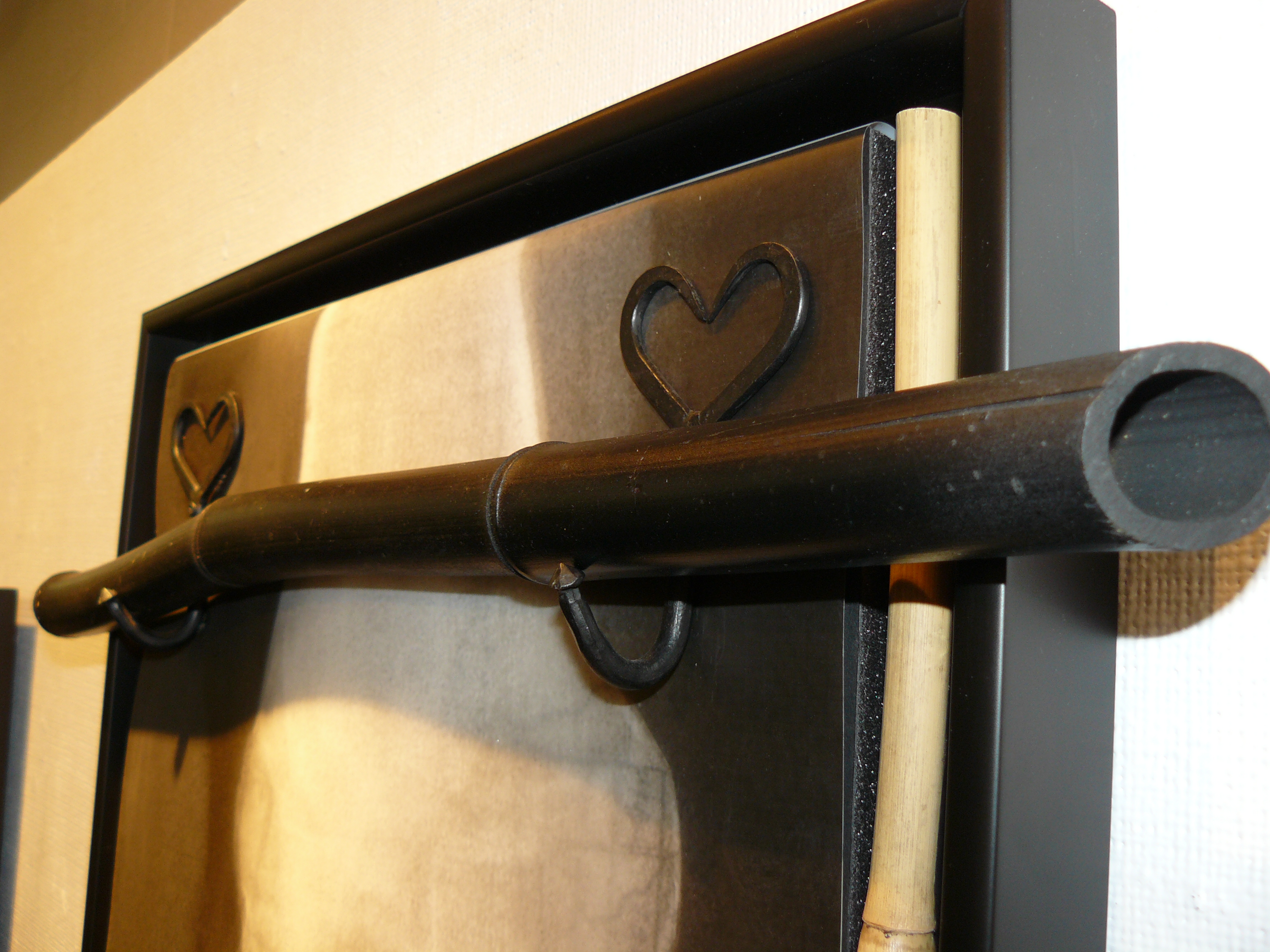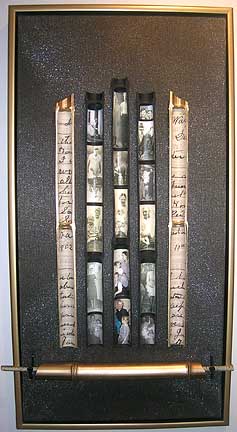 the temple of my familiar
bamboo, metal, textile, prints, archival ink on vellum
Music ran through the core of my being as Mother sang or Dad whistled during farm chores. We all learned to sing four-part harmony from the Church Hymnal and Songs of the Church during daily family worship.  Later, brother Richard's Johnny Cash albums added musical variety to Mother's LP collection of choral standards from Norman Luboff, Robert Shaw, or the Mormon Tabernacle,
(artist [b. 1944] with siblings/Pearl Schrack; parents: Harold Kolb and Iona Souder Weaver; grandparents: Jonas Abram and Emma Kolb Weaver, Edwin and Ruth Kraybill Souder; aunts: Grace and Florence Weaver; 1922 "homesick" letter sent by paternal great-grandmother Mary Ann Auker Weaver from Dooms [VA] to sister Maggie Auker in Juniata County [PA]; family hymns: "Praise to God Immortal Praise," "By Cool Siloam's Shady Rill," "Parting Hymn," "Be Still My Soul")
(detail photos below)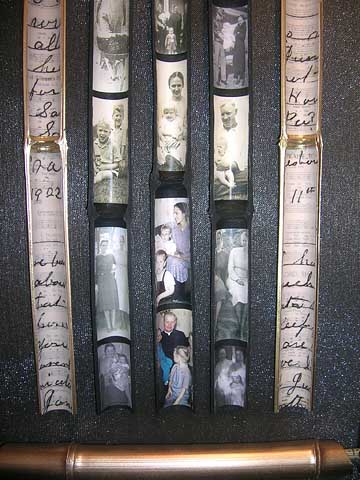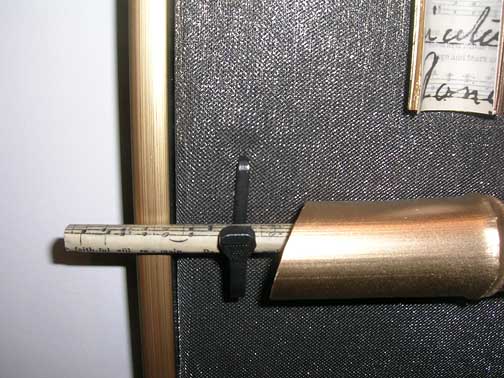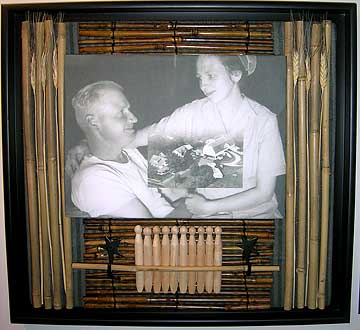 collegeville heartland
bamboo, metal, textile, wheat, wood, archival ink on rag paper
MWF were washdays for the family of ten that eventually surrounded Harold and Iona. Neighbors and friends identified our house as "the one with diapers on the line."
Harold, a dairy and wheat farmer, custom-combined wheat for other farmers. Their Collegeville farmstead had been built by Elmer and Sally Mack in 1923; barn rebuilt after fire by lightening in 1926
(Artist's parents: Harold Kolb and Iona Souder Weaver, 1948; aerial photo of Collegeville Weaver homestead, 1957)
(detail photos below)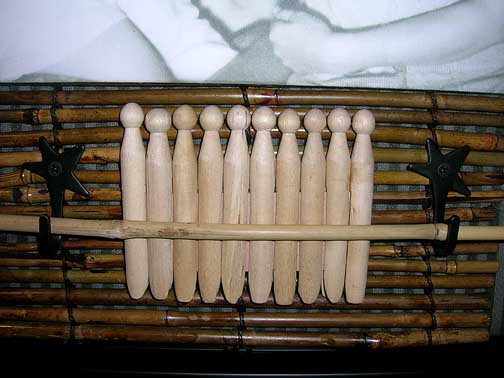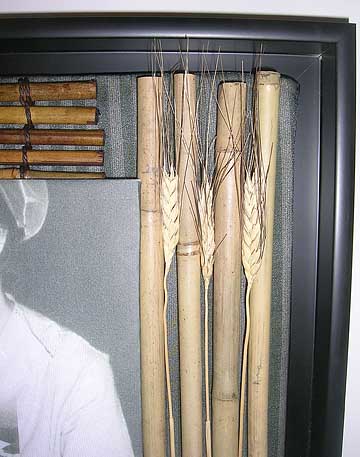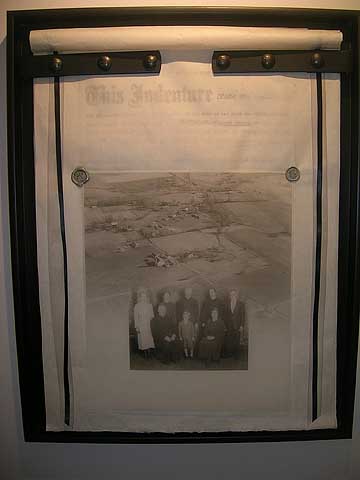 dust to dust
steel, textile, archival ink on rice paper/vellum
"Jonas used so many bolts in the cattle trailer he built, it could haul elephants." —Matt Kolb
Jonas' farm equipment and paternal authority were equally substantial; family ties to that acreage and each other were also well secured over the years by numerous family gatherings and traditions. 
As a four-year-old, i walked the five-mile route between the Collegeville and Linfield farms solo . . . in mistaken anticipation of playng there "uphome" with my cousin Carolyn; fortunately Aunt Kathryn discovered me before the police did.
(1917 Deed of Howard Evans Property Transfer to artist's paternal grandfather, Jonas Abram Weaver; aerial view of Jonas and Emma Kolb Weaver farm on Trappe Linfield Road, Montgomery County, PA; historic buildings razed in 1990 for construction of medical center along 422 bypass; 1939 photo of Jonas and Emma's family, three of whom survive —Grace, Harold and Florence Keener)
(detail photos below)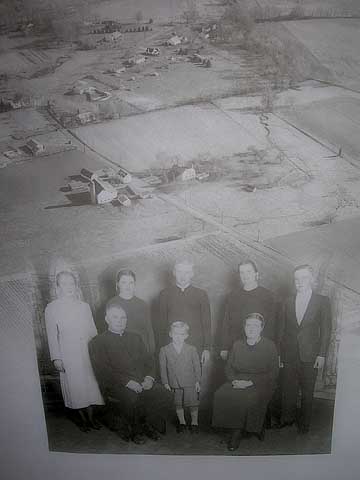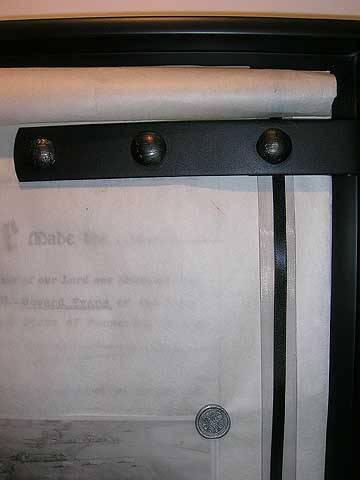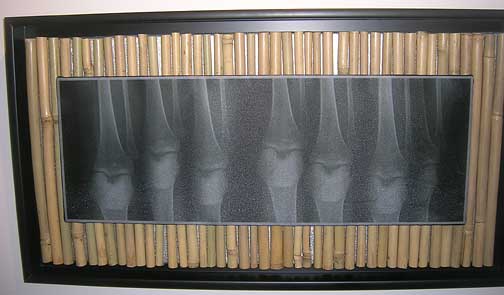 bone grove
bamboo, archival ink on vellum, textiles
We see them and hear them, as though through a veil . . . those who have gone before, that cloud of witnesses, is ever present, if we dare notice.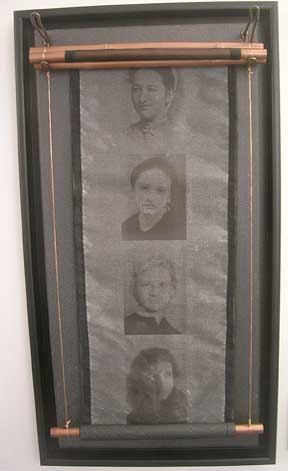 motherline
bamboo, metal, fiber, archival ink on textile
("twenty-something's:" artist's maternal grandmother: Ruth Kraybill Souder, 1889-1993; mother: Iona Souder Weaver, b. 1918; artist, b. 1944; daughter: Amy Carla Houser, b. 1970)
(detail photos below)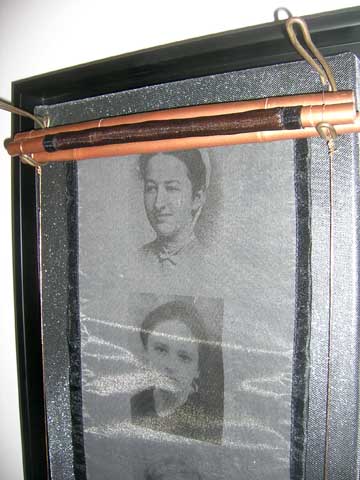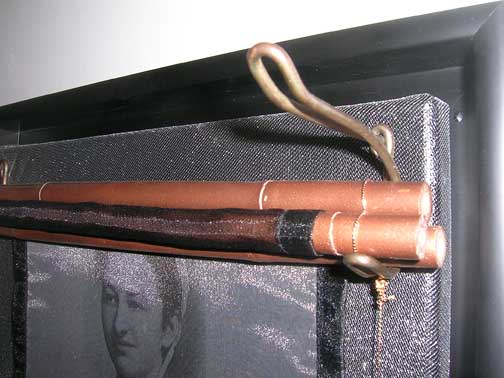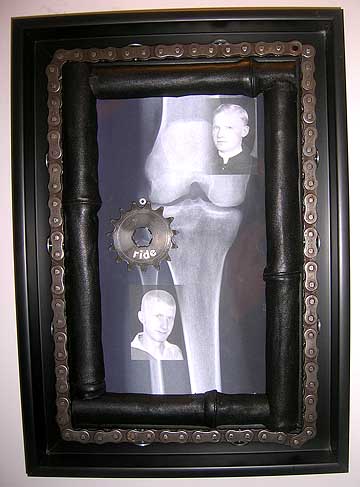 bone of my bone
bamboo, leather, steel, 
archival ink on vellum 
Motorcycling is genetic in our Weaver line; artist's mother, Iona Souder Weaver, bought fiance Harold his first motorcycle, a Harley Davidson 45—practical transportation to his job at Pleasant View Packing Co, for an engagement gift; several brothers own cycles as does son Ted, 29, who happily rides a Buell  XB12S.
(detail photos below)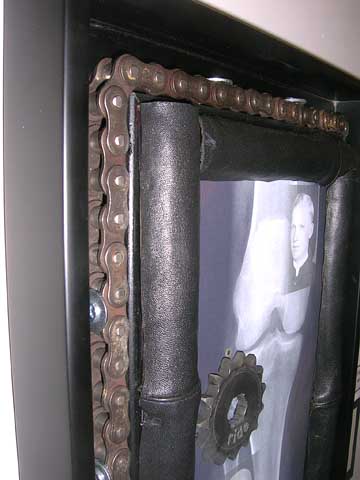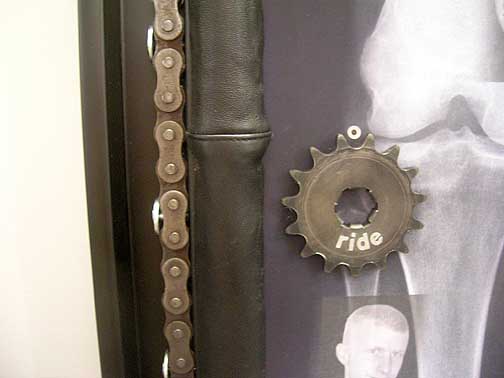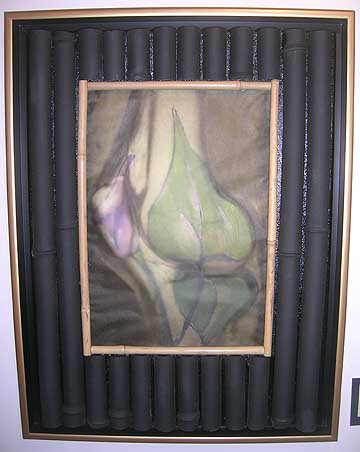 it's in my bones . . .
bamboo, acrylic on canvas, archival ink on Mylar
Gardening, a strong genetic impulse, provides beauty, therapy and sustenance . . . and until her 98th year, my maternal grandmother, Ruth Kraybill Souder, tilled and planted in Mongomery County soil; my mother, Iona Souder Weaver, enjoyed doing so until her 86th summer.
(detail photo below)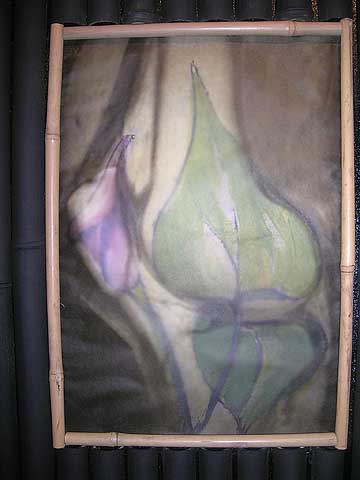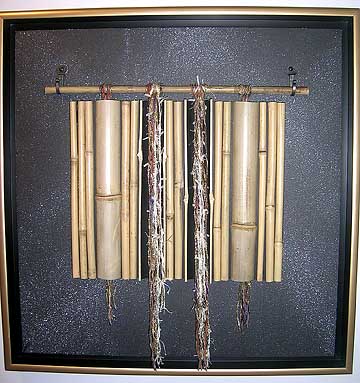 the breath came into them,  and they lived
bamboo, textile, fibers
Ezekiel 37; 10
(detail photos below)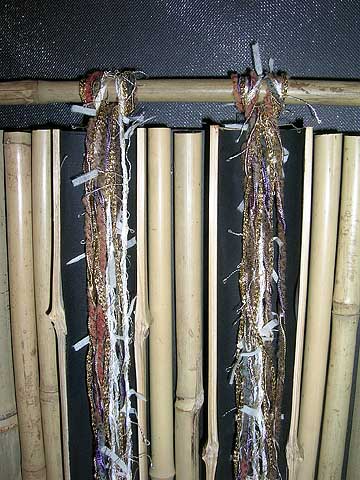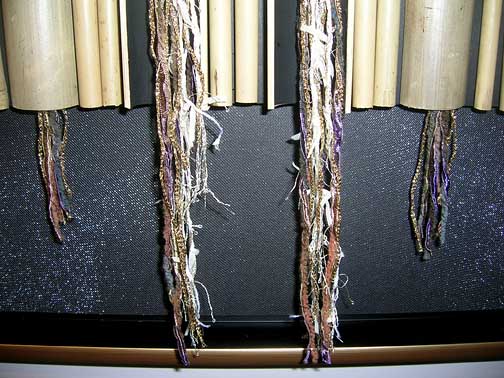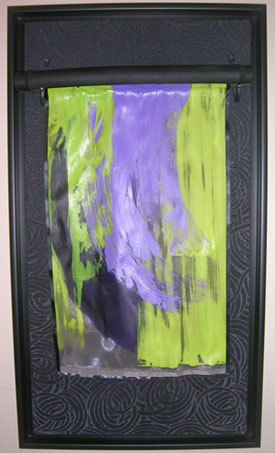 coming of age
bamboo, acrylic on textile
 . . . within me there is something like a burning fire shut up in my bones; I am weary with holding it in, and I cannot.
Jeremiah 20: 9b 
(detail below)