"for the love of her," is an intimate acrylic painting series rooted in the beauty and mystery of tending Mother Earth on ancestral land at Herrbrook Farm in New Danville PA.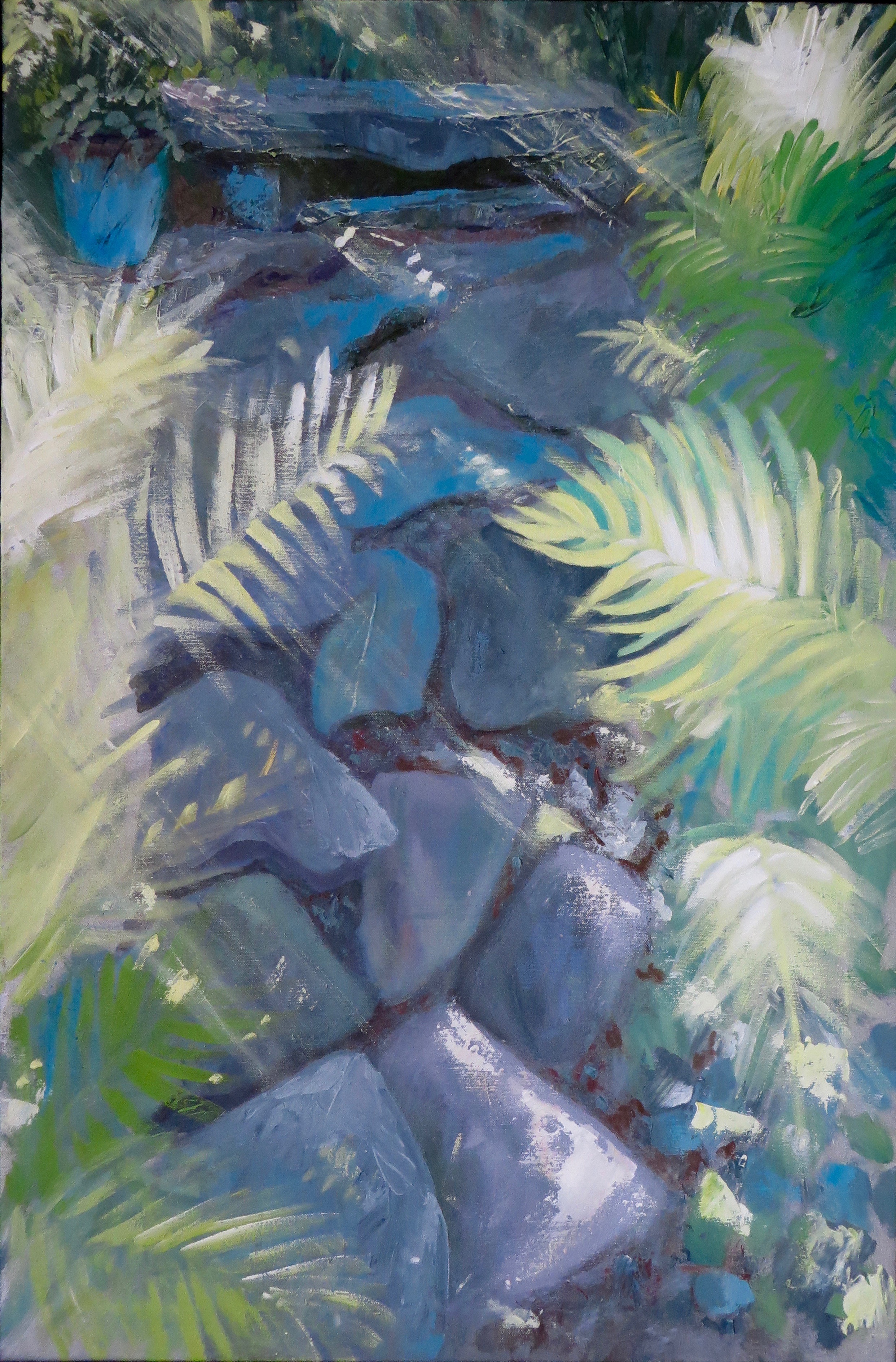 ARTIST STATEMENT
March, 2017
This farmer's daughter can't keep her hands out of the dirt. The Parrot Gallery showcases Mary Lou Weaver Houser's gardening evolution.
"For the love of her" is an intimate acrylic painting series rooted in the beauty and mystery of tending Mother Earth, particularly during the 46 years she and husband Rod gardened on ancestral land at Herrbrook Farm in New Danville.
Generations of Herr and Shenk ancestors tilled this acreage. And prior to the "Penn's Woods" European invasion, generations of Susquehannocks practiced agriculture on these fields between the Susquehanna River and present-day Millersville.
Weaver Houser's awareness of the wounded relationship between humans and the earth surfaced early in her 1989-1990 art series on the land-as-comforter. "And the earth weeps," a subterranean depiction of layers of civilization which preceded ours, mourned the use of land as mere commodity–in Pequea Township and Lancaster County.
That art series predated her own visceral discovery of the power of place to heal as their Herrbrook retreat cottage began welcoming strangers. For years, Weaver Houser, along with hundreds of retreatants who came to Herrbrook, absorbed earth's healing in the gardens, the labyrinth, on the tree swing, in the fernery along the woods trail, down along the restored meadow wetlands, or up on the hilltop with its 30-mile vista.
But only within the past four years of intentional native plant gardening is she grasping the vast bio-physical and spiritual healing capacity of our plant and soil biome. . . along with the wildly diverse creatures and pollinators which sustain this delicate microcosm.
These recent paintings pay tribute to specific spaces and plant communities that continue to surround her with wonder. But "for the love of her" also emerges in the urgent face of escalating extinction and endangerment of these invaluable species.
Weaver Houser adds, "The palpable pain of creation's collapse confronts me now in my elemental love of nature's beauty. And all of us suffer, in our collective unconscious, from the grief and disconnect from this sacred web-of-life."
With unprecedented challenges, humans are invited into the chaos of resilient transformation. We are, together, all in this time of soul-loss and unknowing. This collaborative intergenerational enterprise begins in our own neighborhoods—with the Lancaster Pipeline Protest, Lancaster County Conservancy, Lancaster City Urban Greening including Tree Tenders and Save It!, plus countless other excellent groups.
And it is all "for the love of her!"
 Mary Lou Weaver Houser is now a Lancaster city resident, actively gardening at the Wolf Museum of Art and Music Native Plant Garden at 423 W Chestnut Street and planting trees with Lancaster Tree Tenders.
 Herrbrook Farm is now an equine/canine-therapy facility (www.winnerscirclecenter.com) that serves all ages.
 A gallery talk on "A Story of a Garden" took place at 12:30 p.m. on Sunday, March 12, 2017.
This presentation is available to interested organizations and gardening groups. (Call 717-368-0863 to schedule.)